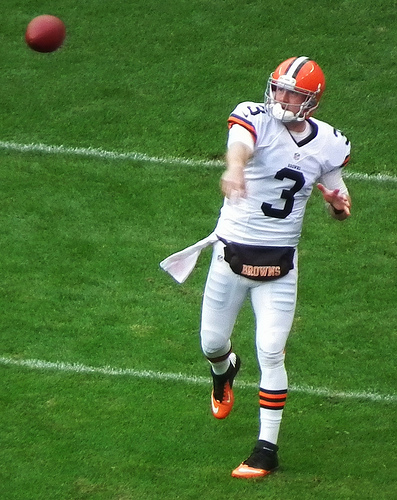 Erik Daniel Drost/Wikimedia Commons/CC-BY-SA-3.0
We can all agree on one thing: Brandon Weeden is going to be a terrible fantasy quarterback this year. Not worth a penny. The Browns have no hope and neither does he. He's currently being drafted in Mark Sanchez range, and that's exactly where he belongs.
Right?
Actually, I'm not so sure.
A few years back, my league was holding its annual draft up at a beautiful lake house in Michigan. It was late, we'd had a long weekend, my head was hurting either from last night's whiskey or that day's beer or both. Most of the rosters were full and the money had been spent. I had two dollars left and I planned to spend it on my deep sleeper, a guy I'd been in love with since the NFL draft that spring. Suddenly, I heard his name. I took a breath. Didn't want to seem too eager. Didn't want any alarm bells to go off in any of my opponents (most of whom were already lighting post-draft cigars and trading predictions about their teams).
Finally, when the time was right, I opened my mouth, the smile creeping over my face in anticipation of getting the one guy I'd wanted more than anyone. I was sure that I was the only one with two dollars left to spend. He was mine. The words were on the tip of my tongue.
"Two dollars," came a voice.
My head snapped to the left. The voice belonged to my buddy Cory. My nemesis in the league. The guy who thinks like me, finds the same sleepers, falls in love with the same players.
"What?" I said, like my wife had just told me she was having an affair with my brother. "You're kidding. You don't have two dollars."
"He does," they all said from behind their cigars.
"Fine." What could I do? "He'll be a bust anyway," I said, trying to keep my voice from breaking.
The year was 2009, and the player was Chris Johnson, and Cory won our fantasy championship by a mile.
The point is this: fantasy championships are often won with the last dollars spent. So how should you spend yours? Who should be your sleepers in 2013?
Whoever you pick as your sleeper, make sure he's really a sleeper. People forget now, but Chris Johnson was not a trendy sleeper pick. He'd had a couple of big runs in the pre-season, but nobody was predicting that he'd blow up the way he did. That's why Cory got him for two dollars, and that's why his 2009 is the stuff of legends.
Another great example: Derek Anderson in 2007. The Cleveland Browns' starting quarterback in 2006 was Charlie Frye, which led them to draft Brady Quinn, which led ZERO people to even consider that Frye's 2006 backup, Derek Anderson, would be 2007's second-best fantasy football quarterback. Second! Just a few points behind Drew Brees!
What happened? I mean, the years that followed have proven that Anderson wasn't exactly an uber-talented quarterback just waiting for his shot. Instead, he was the right guy in the right place at the right time. Why?
Well, a few reasons, but primarily because in 2007, the Browns new offensive coordinator was Rob Chudzinski, who brought his passing-game wizardry and willingness to throw the ball all over the place, including deep, which he parlayed into the Browns improving in total offense from 31st in 2006 to 8th in 2007.
Chudzinski had similar success at other stops around the league as well. In 2010, the Carolina Panthers were dead motherf***ing last in total offense. In 2011, Chud's first year as O-coordinator there, they jumped to 7th. (Yes, yes, Cam Newton, I know, but still, that's a massive jump; not everyone would know how to use Cam.)
Guess who the new Cleveland Browns head coach is? That's right: Rob Chudzinski. And with him comes Norv Turner as the new offensive coordinator, who isn't going to top anyone's list as best head coaches, but who has overseen his share of successful passing attacks (he was the coordinator for those crazy good Troy Aikman Cowboys teams; and he had surprising success as a coordinator in Miami and San Francisco, where he took horrible offenses and made them serviceable).
So what am I saying? Brandon Weeden is this year's Derek Anderson? Really? Brandon Weeden?
Well, before you laugh, remember who Derek Anderson was before Chud arrived. He was Charlie Frye's backup! And also remember who Derek Anderson was when he and Chud parted ways. (Actually, I don't remember what happened to Derek Anderson after he left Cleveland, which probably says a lot.)
Chud and Turner (and Weeden) also have the tools to make their passing game work in Cleveland. To begin, they've got one of the biggest weapons a deep passing attack can have in the form of Joe Thomas, perhaps the best left tackle in the game. They also have some guys to throw to, including Josh Gordon, who caught fifty balls as a rookie for over 800 yards, for an average of 16.1 yards per catch. Gordon is suspended for the first two games, but when he comes back they'll have a guy who can go deep. In addition to Gordon, Greg Little is solid, and Trent Richardson is a great weapon out of the backfield, catching fifty-one passes in fifteen games. And Weeden has a big arm, and people forget that he's the guy who threw for over 4,000 yards and 30 touchdowns twice at Oklahoma State.
So even if Weeden doesn't vault into the top five, he's exactly the kind of player you should get with your last dollars. Nobody has hope for him or for Cleveland, so he'll be dirt cheap. And yet, you know something that they don't: he's in a system that has produced fantasy superstars from no-names, and he has young, fast talent around him.
Forget the trendy sleepers. The more people talk about a guy, the higher his price climbs. Instead, look for a real sleeper, the guy who nobody else wants --- Weeden is currently being drafted in Mark Sanchez range, so I think he qualifies. Only don't wait too long to make the bid. Because I still have nightmares about Chris Johnson.