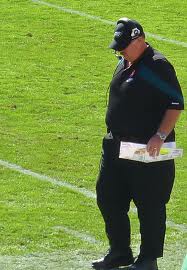 Photo by Matthew Straubmuller http://www.flickr.com/photos/imatty35/
Chip Kelly is coming to the NFL! I love it. Of all the things I can't wait to see on the NFL's opening weekend, I am most excited to see Philly's first possession. This is blasphemy (I am a die hard fan of another Pac-12 football team), but I admit I watched just about every game Oregon played these last few seasons, and I smiled through most of them. The most striking thing about those Chip Kelly Oregon offenses was that when you really watched, they didn't feel gimmicky. It felt like you were watching the most precise, disciplined, and efficient offense in the country. They weren't tricking anyone, they were just better prepared and faster thinking.
How this will translate to the NFL is anyone's guess, but conventional wisdom appears to be that if nothing else, Kelly will bring the extremely high tempo of those Ducks teams to Philly, and thus push the envelope on the NFL's trend toward getting to the line quickly and running a lot of plays. It follows, they say, that we should expect more fantasy points per game from Philly's players.
But wait a second. I agree Kelly is likely to go high tempo with his offense, but let's remember who he's replacing. Andy Reid wasn't exactly running Three Yards and a Cloud of Dust. In fact, last year the Eagles averaged 67.5 play per game, sixth most in the league (New England ran the most, averaging over 74). In 2011, the Eagles were ninth in that category. So really, the question fantasy football players have to ask is not whether the Eagles offense will be fast, but whether it will really be much faster than it already was.
Kansas City is another story. Last year the Chiefs averaged 63.6 plays per game, 16th-most in the NFL. Compounding the slow-tempo of their games was the fact that teams ran only 60.8 plays per game against their defense, suggesting that the tempo wasn't just a question of the Cheifs' bad offense getting off the field quickly. Chiefs games were slow, and it's fair to assume that their slowness was by design.
Enter Andy Reid. As we saw above, Reid's teams like to move quickly. And of course, they've replaced Matt Cassell/Brady Quinn with Alex Smith. Whatever you might think of Smith, his acquisition suggests a move toward a spread offense, as does the hiring of Brad Childress as "spread game coordinator." I don't exactly know what a "spread game coordinator" is, but it's probably safe to say we're going to see some spread in Kansas City (unless hiring a "spread game coordinator" is an elaborate ruse, in which case Reid will have earned even more of my respect).
There is more to be written about Reid and Smith coming to Kansas City, and we'll tackle what some of us here believe is the most important off-season change in fantasy football in later articles. But strictly looking at tempo and its effect on fantasy performance, the impact of Chip Kelly coming to the Eagles will be felt more in Kansas City than in Philadelphia. In both cities we can expect a lot of plays, which means a lot of chances for fantasy success. The difference is this: in Philly, this is more of the same. In Kansas City, this is new, which means a great opportunity to find some value.
Check out our in-depth analysis on all fantasy quarterbacks here.