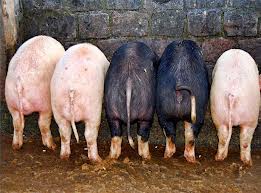 Miami's offensive line will have 5 new starters
The Miami Dolphins will begin this season with five different starters on the offensive line. This should be positive change since last year's line was an unmitigated dumpster fire both on and off the field.
The diligent fantasy owner/GM, is wondering: How good will the new crew be?
On paper, they figure to be pretty good.
• Miami signed elite left tackle Branden Albert away from KC.
• They used their first round pick on right tackle Ja'Waun James.
• And then they signed solid right guard Shelley Smith for a hefty sum.
Unfortunately, Pro Bowl center Mike Pouncey suffered a pretty serious injury this offseason that will either keep him sidelined or severely limit his effectiveness until at least midseason. But even without Pouncey, the Dolphin line figures to be much improved and could approach "above average" status.
KC's Offensive Line is due for a setback
What do Branden Albert, Jon Asamoah and Geoff Scwartz all have in common (besides the fact that they are three people who have never been in my kitchen)?
They're three starting offensive linemen that the KC Chiefs lost in free agency this offseason. Altogether, they will earn approximately $20 million next season.
The Chiefs signed one free agent named Jeff Linkenbach for less than $1 million to replace them.
Look for the Chiefs running game to take a major step backwards as a result.
Watch out for an improved offensive line in the ATL
This might be the most improved offensive line in the league with three major upgrades.
• LT Sam Baker returns after missing most of the year to injury.
• RT Jake Matthews was drafted with the 6th pick overall.
• LG Jon Asamoah was lured away from KC to play RG.
Each of these three players are approximately a $5-$7 million upgrade from what they had in 2013.
In addition, an offensive line's best friend is a legit WR deep threat. The Falcons get WR Julio Jones back from injury. His presence will keep safeties out of the box and enable the running game to more easily take hold. He will also make defenses pay for blitzing, which means they won't very often.