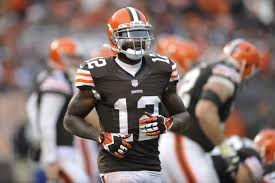 The story out of Cleveland today is that Johnny Manziel is taking reps with the starters and looks great. Fine. But don't touch him on draft day. In fact, until Josh Gordon is cleared to play, don't touch anyone in Cleveland.
I get it. Manziel is exciting and apparently has amassed some enormous following, including NBA megastars. And his numbers—both rushing and passing—were insane in school. But I don't care. I don't care about his college numbers any more than I do about his weekends. Because look at what Josh Gordon did last year, and then at what everyone else on that roster did. Better yet, watch some tape of Gordon. Look at how he made something from nothing over and over again and ask what things will look like for Cleveland—29th in the league in yards per attempt even with Gordon—without him. Gordon put up his gaudy numbers—1646 yards, 9 touchdowns, 18.9 yards per catch—in just fourteen weeks. And those two weeks without him? The Browns managed 16 points and 550 yards. Combined.
Just look at the roster. Who's the new number one WR on that team? Nate Burleson? Earl Bennett? Jordan Cameron, the team's star tight end, is probably in line for a ton of catches, but he averages about eleven yards a catch to Gordon's 18.9. Cameron is great, but he's not there to do what Gordon did. And that's the thing: no one can do what Gordon did for that team (and many fantasy teams). No one to make the miracle 95-yard touchdowns like he did. No one to take a nothing swing pass and break eight tackles to take it the distance like he did. Josh Gordon shone his light and made everybody warm, and now he's (probably) gone, leaving Cleveland dark and cold once more.
Some experts, in projecting Manziel way too high (his ADP is about 20 as of this article depending on where you look), point not to the receiving core, or to Manziel's college numbers, but to Ben Tate. They say Cleveland has one of the best offensive lines in the NFL (no argument), and now have an elite running back. This will take pressure off of Manziel, and open up the passing game.
Well, maybe, but there are good reasons to ignore that kind of talk. Sure, common sense says that things are easier for a quarterback if the defense is worried about the running game. But there is the common sense counter-argument too: a good running game will steal attempts from your QB.
More importantly, though, the numbers don't give us any reason to believe that an improved running game will lead to fantasy success for the quarterback. For the most recent examples, we can look at the two teams who most improved their rushing attacks last year: the Raiders and Jets. Oakland saw arguably the biggest improvement in its run game between 2012 and 2013, from 3.8 YPC (tied for 23rd in the league) to 4.6 (good for 6th place). Yet you'd be hard pressed to argue that this opened things up for the passing game in 2013, when they saw their passing numbers plummet. Yes, they had a talent drop in 2013 as well (from Carson Palmer to a mix of Terrelle Pryor and Matt McGloin), but their offense is hardly a strong case for the old myth about an improved running game. The Jets were a similar story. Despite the dramatic rise in their rushing numbers last year (118 YPG, 3.8 YPC in 2012 to 134 YPG, 4.4 YPC in 2013), it was not enough to pull their passing game out of the cellar.
And the converse is true too: guys like Manning and Brees have consistently amassed monster numbers without a running game, and ask Aaron Rodgers how much his running backs have "opened things up" for him over the years. And it's not just that these QBs steal carries from their running backs: even on a yards-per-carry basis, Denver, New Orleans, and Detroit—the best passing offenses in the league last year—came in at 17th, 26th, and 20th, respectively. San Diego, Atlanta and Cincinnati, too, boasted top-10 passing offenses despite struggles on the ground. So while the guys in the booth might drone on about the importance of a running game to a quarterback, don't let that nonsense cloud your judgment on draft day.
For Cleveland, this means that even if you believe that Ben Tate is the answer for their running game (and I have my doubts about that, too, as I will address in coming days), those gains won't translate to Manziel's passing numbers, and certainly won't make up for the loss of Josh Gordon, one of the best receivers in the world. Gordon's 2013 was incredible, and he did it without much help from anyone. He carried that offense and now he's gone, and unless you think Johnny Manziel is a once-in-a-century talent, save your cap room for something better.
And one more thing: don't forget that Johnny Manziel didn't do anything alone at A&M. He was surrounded by NFL talent at the most important positions to a quarterback's success: receiver Mike Evans and tackle Jake Matthews were both taken ahead of Manziel in this year's draft, and tackle Luke Joeckel, who protected Manziel during his 2012 Heisman campaign, was taken second overall in last year's draft. This is not a guy who has ever had to do it by himself. At least, that is, until now.