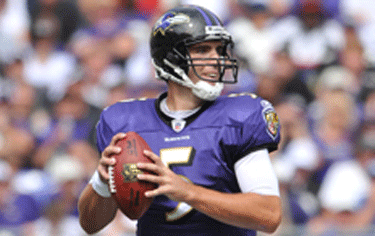 I've never been wacko for Joe Flacco - at least not from a fantasy football perspective. I've always thought his name value was higher than his actual value.
This year might be different.
As most our readers probably know, Baltimore fired their longtime offensive coordinator, Cam Cameron, after Week 14 and went with former Indianapolis Colts head coach Jim Caldwell. What you may not know is Flacco's fantasy numbers exploded at that point.
After the switch to Caldwell, Flacco went from averaging 17.7 points per game to 24.9 points per game the rest of the way including the playoffs. (I left week 17 out of the calculations because Flacco only played one series.)
Six games is an extremely small sample size, so let's not go crazy, but 24.9 would put him in elite QB territory.
It's also noteworthy that all six of those games were against playoff-caliber competition.
Further still, no one knows for sure why Cameron was canned, but rumors suggest Flacco wanted Cam gone so Caldwell would open up the offense.
Flacco is no longer in a contract year and he lost WR Anquan Boldin, but these numbers seem to suggest he could have his best fantasy year so far.