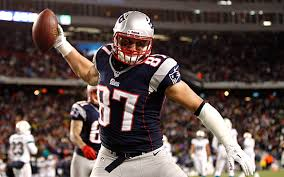 Here's something you aren't reading anywhere else: Last season, Tom Brady averaged more fantasy points per game without TE Rob Gronkowski than he did with Gronkowski!!!
Here's something else you aren't reading anywhere else: Last season, Tom Brady averaged more fantasy points without TE Aaron Hernandez than he did with him!!!
Or, how about this: In the three games Brady had BOTH Hernandez and Gronk healthy last season, Brady averaged three points less per game, than he did in all the other games.
There's no question, Brady will be throwing to a lot of new faces this year, but how much does it really matter?
Here's a list of the guys Brady will be without in the upcoming season:
•Gronkowski: His health is questionable for the first part of the season.
•Hernandez: In case you hadn't heard, there was some kind of altercation in Massachusetts.
•WR Wes Welker: He left via free agency.
•WR Brandon Lloyd: He has not been re-signed by the Patriots.
First, it's important to remember that both Gronk and Hernandez missed almost half of last season with injuries, so losing them isn't as big a deal as you might think. And as we stated above, Brady's numbers didn't suffer without either of them. And we don't yet know how much time Gronk will miss, if any. It's actually possible, the Patriots get MORE playing time out of Gronk this year than last. Overall, the tight end situation is a downgrade from last year, but it's not nearly as big as other writers are making it out to be.
On the surface, losing Welker hurts, but the Pats offered his replacement, WR Danny Amendola, $7 million per year BEFORE they offered Welker $6 million per year. The underreported truth is, the Pats wanted to replace Welker because his production has been dropping steadily. (We've written about the clear statistical evidence that Amendola is better than Welker here: Scroll to No. 19.) Replacing Welker with Amendola is actually an upgrade.
WR Brandon Lloyd hasn't been brought back, but that's because the Patriots don't want him back. Lloyd's still a free agent, if they decide he's better than what they have, they can go get him anytime they want. So far, they think they're better off without him. Whoever they replace him with, should be an upgrade.
In addition, the Pats get Julian Edelman back from injury. And let's not forget, he's the guy that New England benched Welker for early last season. Getting Edelman back is an upgrade.
Also, the Pats invested a second-round pick in WR Aaron Dobson, and he's currently working with the first-team offense. Dobson is an upgrade.
Also, the Pats activated former New York Giants TE Jake Ballard. This isn't an upgrade over Hernandez (not even close), but he is a talented guy that they didn't have available last year.
There's a lot of hullaballoo and poppycock out there about how Tom Brady's lack of receivers will knock him out of the fantasy elite, even I worry about it in my player evaluation of Brady here: Scroll to Tom Brady. But the truth is, writers write about this stuff because it's easy, fun, and dramatic, but if you delve into reality, the evidence currently available actually suggests the Patriots have made several upgrades in the receiving corps, and their losses have been overblown.
*Caveat: At no time last year was Brady without BOTH Gronkowski and Hernandez.
*Note on the calculation of statistics:
•I always use standard scoring when doing calculations.
•When there is a limited sample, if available, I include playoff games in the numbers to extend the sample, that was done in the above article.
•I make common sense adjustments in the PPG calculations. For instance, Gronk was completely healthy in weeks 1-11 of last year, so those are the weeks the Patriots were considered to have him. He technically played in Week 17 and the first round of the playoffs, but he had a total of two catches. It's obvious both in the stats, and by watching, he wasn't the man we think of as "Gronk" during those games. In my opinion, it would be unintelligent to include those numbers as if he were at full strength. If you disagree, you can take the above calculations with a grain of salt, but those adjustments wouldn't materially affect my conclusions.