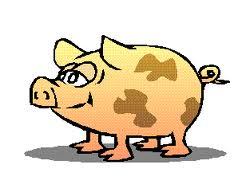 Hog Report: Philadelphia Eagles
"They're baaaaaaaaack." No, not the ghosts from Poltergeist and not the "boys" from that 80's song that's been stuck in my head for the last two decades. I'm talking about the offensive line of the Philadelphia Eagles.
Entering last season, the Eagles had one of the top 5 offensive lines in the NFL. Unfortunately, the Eagles' line was decimated by injuries and many LeSean McCoy fantasy owners had their seasons destroyed along with it.
But now, guess who's back?
Before last season, Jason Peters was considered the best left tackle in football. He missed all of last season, but now he's back.
Jason Kelce was an up and coming center. He went down in week 2, but now he's healthy.
Todd Herremans signed a $27 million contract before the 2012 season to play right tackle. He was hurt last year, and now this line is so stacked, he'll be forced to play inside at right guard.
When you combine the three players returning from injury with stud left guard Evan Mathis and rookie right tackle Lane Johnson (the No 2 pick overall in this year's draft), I guess this offensive line is like the Poltergeist: truly scary.
Hog Report: Tama Bay Buccaneers
Winning fantasy titles is about getting memos.
How many times have you been watching your fantasy team get beat by some unknown wide receiver and you scream to yourself, "HOW COME I'VE NEVER HEARD OF THIS GUY!!!"
It's because you didn't get the memo.
Sometimes you didn't get the memo because you weren't paying attention, but all too often you didn't get the memo because there was no memo. The so-called fantasy "experts" never wrote the memo.
Many of each team's biggest offseason additions go completely unnoticed by the "expert" community because some of the biggest upgrades come in the form of injured players getting healthy. And this often never makes the headlines, especially in the case of offensive linemen.
With this in mind, read the following:
Memorandum to Fantasy Diehards
The Tampa Bay Buccaneers return their two highest priced offensive linemen from injury. Last season's major offseason acquisition Carl Nicks, who makes $9.5 million per year and only played only eight games last season, returns along with $7.5 million man Davin (not David) Joseph who's also returning from injury (Joseph didn't play at all last season). Together, that is nearly $17 million of offensive linemen returning from injury and nearly no one is reporting it. (Some experts slightly mention the Bucs have linemen returning, but I haven't heard anyone emphasize it properly.)
This is an incredible amount of money. It's far more than any team spent to improve their offensive line through free agency, and this is likely the first time you are reading about it, at least in a meaningful way.
You might want to think about upgrading Doug Martin if you haven't already. Read more about Doug Martin.
Hog Report: Tennessee Titans
It's not sexy to write about offensive lines (it's also not sexy to visualize Nate Newton wearing skimpy lacy lingerie), but offensive line study is usually the difference between hoisting your league's cup of dignity or hanging your head in shame.
You heard it here first: The Tennessee Titans have one of the Top 5 most improved offensive lines in football.
This offseason, the Titans signed free agent left guard Andy Levitre, a young emerging star, to a $47 million deal and they used the 10th overall pick in the draft to take right guard Chance Warmack. Did you see Chris Johnson's 60 yard TD scamper the other night? He ran right through a gaping vortex opened by Levitre.
Chris Johnson has been overvalued for years, but if you don't project him to outperform last year, then I question your IQ and your sanity.
Check out our in-depth analysis on all fantasy RBs Here.
Tell me what a jerk I am at jjp@routetree.com
Or engage us in a "Twitter war" @routetree