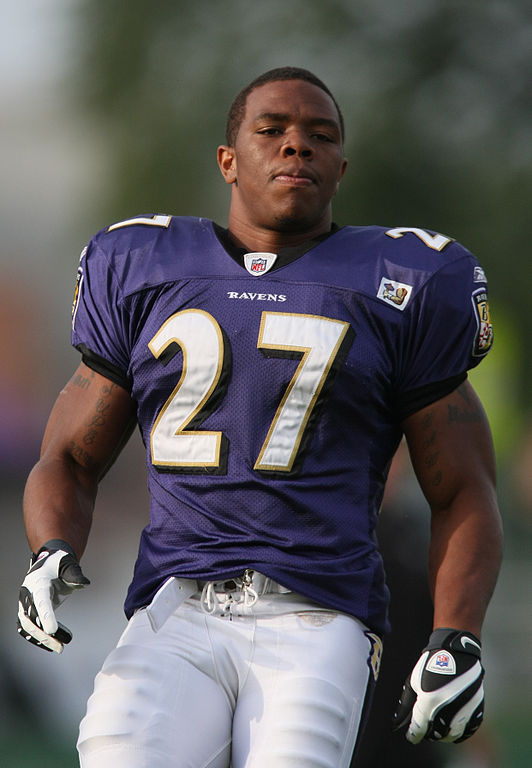 Picture by Keith Allison
The Baltimore Ravens sure do have nice cleavage. Don't get crafty with your imagination, cleavage is a scientific term; "the tendency of... materials to split along definite... structural planes. (Wikipedia)" A clean, even break or a well-defined breaking off point.
After Week 14 last year Baltimore Ravens longtime offensive coordinator Cam Cameron was fired and Jim Caldwell (former Indianapolis Colts head coach) was elevated to the same position. At that precise point in time, all fantasy performers on the Ravens experienced a distinct changing point (kind of like Teen Wolf) in their statistics.
It's rare in this crazy fantasy football world, to see such great cleavage and I thank god when it is so clear.
We've already discussed the impact of Caldwell's elevation on Joe Flacco. Let's take a look at Ray Rice's numbers and what he can expect moving forward under the new coordinator.
When I looked at the overall statistics of all Baltimore Ravens running backs before and after the change in coordinators, several things stood out. (Caveat: In all stats discussed below, I left out week 17 from computations, as Baltimore was resting starters. I included playoff stats to extend the sample size to six games under Caldwell.)
Usage
Rice averaged 3 extra touches per game with Caldwell, which is nice, but his backup Bernard Pierce, averaged four more touches. (Hmm. Both players' usage increased, which is a good sign for RB Baltimore overall.)
Effectiveness
Rice's average fantasy points per game shrunk from 15 to under 13. (Worrisome.) And his yards per carry shrunk from about 4.5 to 3.8. (Very Worrisome.) Rice's TDs per game shrunk to about half. (This is a worrisome trend of shrinkage, "like a frightened turtle.")
Meanwhile
Bernard Pierce's average fantasy points per game grew from 3.3 to 5.8 and his average yards per carry ballooned from 4.5 (decent) all the way to 6 (excellent)!
Conclusion
Under Caldwell, both backs usage went up but Rice's productivity was very much down. Meanwhile, Pierce thrived. It seems that Caldwell's system doesn't suit Rice as well as the previous system. I'm not saying Pierce is going to take-over completely - Pierce doesn't catch passes or block well - and this is only six games, so this could be a fluke, but I don't want to cough up elite level money for a RB who doesn't look to be an ideal fit for his new OC's scheme, especially when his backup does.
Look at it this way, if Ray Rice so much as jams his big toe, you think they'll hesitate to sit him down when the guy behind him averages 6 yards a plug?
These numbers could be a fluke, but moving Ray Rice a few spots down your board might be prudent, even if it means he won't be on your squad... At least if you like cleavage.
Check out our in-depth analysis on all fantasy running backs
here
.