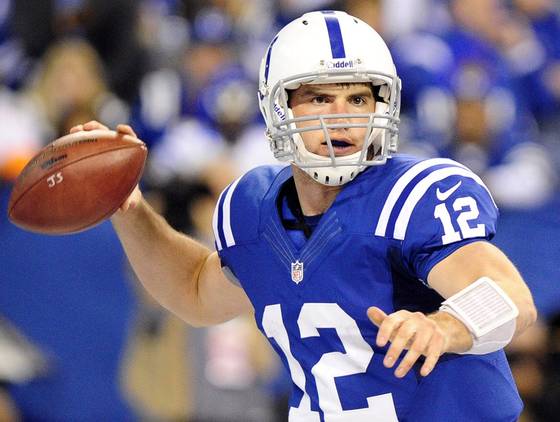 That giant slurping sound you're going to hear next August is fantasy football players waxing poetic about Andrew Luck, you heard it here first: Buyer beware!
Sure, Luck was 10th amongst QBs in fantasy points last year AS A ROOKIE. But there are some red flags.
-Luck's Completion Percentage: 54.1%
In case you didn't know, that's bad. Among passers with at least 200 attempts, he was 35th in the league. That's just ahead of Chad Henne and just behind Brandon Weeden, Jake Locker, Josh Freeman, Mark Sanchez and the incomparable John Skelton. (All young QBs too, but no one is slurping them.)
-Luck's Passer Rating: 76.5
That's 29th in the league. Just behind Nick Foles, Michael Vick and Blaine Gabbert and just ahead of Tannehill, Locker and Weeden.
-Yards Per Pass: 7.0
Some will point to Bruce Arians (Luck's former offensive coordinator) as the reason for these anemic stats. "Arians prefers going deep too often to compete in efficiency stats," they'll say.
There is some truth to this. However, Luck only rated as the 19th highest yards per pass, which isn't enough to offset the anemic efficiency stats.
-Strength of Schedule,
When you factor in strength of schedule, Russell Wilson had a much more impressive rookie season than Luck. (We will be posting QB numbers adjusted for schedule in the near future.)
If you hear nothing else, hear this:
• Luck faced the 5th easiest schedule in the league last year.
• Luck scored 5 rushing TDs last year. (He's a good runner but that's tough to duplicate).
Luck should be a better player with a year's experience under his belt, but any improvement will likely be offset by a probable reduction in rushing TDs and the probability of a tougher schedule. Plus, that 54% completion rate is flat out worrisome. Expect good, but not elite fantasy numbers from Andrew Luck this year.
(Also, the Colts are completely changing offensive schemes this year under new coordinator Pep Hamilton. He's said to be a run first play caller, which will likely lead to fewer fantasy points for Luck than expected.)
Check out our in-depth analysis on all fantasy quarterbacks here.