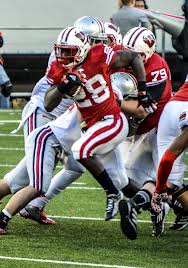 User:Bflbarlow/Wikimedia Commons/CC-BY-SA-3.0
Sometimes hype is real. Lebron turned out to be pretty good. The Dark Knight was as epic as everyone said it would be. Luck and RGIII met their 2012 expectations. Adrian Peterson met his.
The trick with assigning value to fantasy players is determining when the hype is real and when it's off. That's a tall order with a sport like football, where a player's performance is dependent on a million dynamic factors, and it's particularly hard when it comes to rookies, who, in addition to all the normal uncertainty, have never been exposed to the bright NFL lights or its incredible talent.
Among this year's rookie class, the hype machine seems to have turned its lights on Montee Ball. Although his bar is not being set anywhere near as high as Luck's or RGIII's last year, and maybe not even as high as last year's most highly-touted rookie RB, Trent Richardson, the guardians of conventional wisdom have slowly formed a consensus that Ball is the man to get among first-year players. They say McGahee is gone and John Elway would never spend a top draft pick on a guy he was planning to ride pine behind Ronnie Hillman.
So, is it true? Is Montee Ball destined to be the star of this year's rookie class?
In a way. I actually agree that Ball is probably the most valuable rookie among running backs (I think E.J. Manuel is the most valuable rookie among all players, with Tavon Austin close behind), although for slightly different reasons. Whereas experts rightly focus on opportunities, I think they are missing a few pieces of the puzzle (and ignore a couple of warning signs too).
More than anything, the reason to like Ball is not the RB himself, but another Denver off-season acquisition: Alex Gibbs. AKA the Godfather of the modern zone-blocking scheme, AKA a fantasy running back's best friend, AKA the most valuable septuagenerian in all of fantasy sports. Gibbs' resume is long and worth a read for yourself, and he is finally earning the publicity he so deserves (for example, this excellent tribute over at Football Outsiders). But he's probably most famous for being the architect of those dominant Denver Broncos rushing attacks of the late '90s and early '00s, including Terrell Davis' 2,008-yard season in 1998.
Perhaps even more impressive than TD's big years (Davis, after all, was loaded with talent), were the big years produced by relative unknowns or rookies behind Alex Gibbs-coached offensive lines: remember Mike Anderson's 1,500-yard, 15-touchdown campaign in 2000? How about Clinton Portis' back-to-back 1,500-yard seasons in '02 and '03? And it wasn't just Denver. Gibbs coached the Atlanta line that produced over 2,600 yards rushing in 2004 and 2,500 yards in 2005, and the 2008 Houston Texans line that paved the way for Steve Slaton to come out of nowhere to have a big fantasy season.
Although it is not exactly clear how large a role Gibbs will have in Denver, the word from camp is that Gibbs is on the field and working hands on with the Broncos' talented offensive line. This is good news for Denver fans, and especially good news for Ball. Why? Because Ball is the perfect fit for Gibbs' scheme. He's a strong, one-cut back who finds his hole, hits it, and makes things happen at the next level. And even though he is just a rookie, he has already had success behind zone-blocking: Wisconsin ran a zone scheme too, and Ball managed to ride it to over 5,000 career yards, 77 touchdowns, and an average of over 5.5 yards per carry. So although Ball hasn't seen NFL action, there's little doubt that he fits the scheme, and little doubt that the scheme works.
The Broncos also have the personnel to pull off Gibbs' scheme. The line is loaded with talent, anchored by tackle Ryan Clady. Guard Zane Beadles made the Pro Bowl last year and is dominant in the run game. One question mark along the line was at center, where Dan Koppen's recently torn ACL appeared to put Denver in a bind. But somehow, the Broncos managed to coax Ryan Lilja out of retirement (my guess is that former teammate Peyton Manning had something to do with it), and suddenly center is a position of strength, especially given Lilja's experience with zone-blocking schemes in Kansas City and Indianapolis.
There are question marks for Ball, the biggest being that he is currently listed behind Ronnie Hillman on the depth chart. This is legitimate cause for concern, and, as long as it lasts, should temper his value.
But there are good reasons to expect Ball to end up with the job. First is Gibbs. The Broncos hired Gibbs after drafting Ball, and it seems unlikely that they would make that investment in the coaching staff, and re-design their blocking schemes, if they didn't plan on starting their zone-running rookie.
Second, and perhaps more compelling, is that Montee Ball surpasses Hillman at what is by far the most important skill for a Denver Broncos running back: protecting Peyton Manning. Although there is some disagreement about how strong of a pass blocker Montee Ball will be at the NFL level, many scouts listed pass protection as a strength of his during the run up to the draft, and consensus out of Broncos camp appears to be that he is ahead of Hillman in that regard. And as big of an investment as Ball and Gibbs and everyone else on the team might be, nothing is more important to the success of the 2013 Denver Broncos than keeping Manning on his feet.
It is also worth noting that Hillman had his chances last year. The Broncos handed him the ball 85 times in 2012's regular season, and he only managed 3.9 yards a carry. By contrast, Willis McGahee managed 4.4 yards per carry behind the same offensive line. And the Broncos were so impressed by Hillman that they used their second-round draft pick to draft Ball. Not exactly a ringing endorsement.
Yes, there are question marks. Ball is a rookie, and currently not listed as the starter. But those question marks could lead to an opportunity in your fantasy draft. In the wake of a huge rookie year from Doug Martin, people are willing to pay for first-year RBs, and so a hyped rookie with no question marks might become too expensive to be worth the risk. But because of his lingering doubts, Ball's price is still relatively low, at least compared to his potential. And although he comes with risks, as we've discussed here, they are risks that Ball is likely to overcome.
So our advice is to take advantage of the relatively low price as long as it lasts, which is probably just as long as Hillman manages to keep hold of the top spot on the depth chart. Alex Gibbs has become a legend by constructing fantasy monsters from unknowns and rookies. Don't miss out on his latest creation.
Check out our in-depth analysis on all fantasy running backs here.