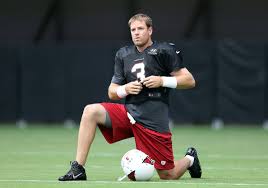 Any good sleeper pick has two components: (1) people have to be down on him, and (2) you need a reason to believe they're wrong.
Most sleeper picks fail the first test. You think Montee Ball is going to have a breakout year? Great. So does everyone else. A second-round pick in his second year, who is suddenly the unquestioned starter on the world's best offense, is not exactly a bold pick. Everyone loves Ball, and you'll have to pay for him if you want him.
The second is tricky too. Your eyes may tell you that Ryan Tannehill is underrated, but you need a reason to believe he'll be better this year than last or you'll overpay and it'll cost your team dearly.
Which leads us to the first quarterback in our sleeper series: Carson Palmer.
What? Not impressed? Exactly! Your reaction to Palmer is precisely the reason he's a great sleeper candidate this year. He's old, he's boring, he's a couple years removed from trying to retire, and he hasn't had a fantasy season worth talking about since he was throwing to Chad Johnson and TJ Houshmandzadeh.
But Palmer passes our test. The first part is easy: nobody likes Carson Palmer (he's currently being drafted somewhere in the range of 25th among QBs, just behind guys like Eli Manning and Joe Flacco).
The second takes a little more thought. A first glance at the numbers is unimpressive. Palmer finished 17th among quarterbacks in standard scoring leagues, right above guys like Eli Manning and Joe Flacco. Nothing special. But even here, we should take note of something important in identifying sleepers: he's being drafted about eight spots below where he finished last year.
Well, okay. Fantasy experts still think he'll be worse. It's not exactly unheard of for an older quarterback to slip due to age, right? But whatever his image, Palmer is only 34, which is not exactly ancient among quarterbacks (Payton Manning is 38, Tom Brady 37, Drew Brees 35, Tony Romo 34).
So what is it then? His situation must be worse, right? I mean, we haven't heard of any big free agency splashes in Arizona, right? That offense is bad, and getting worse. Isn't it?
Well, actually, no. There's good reason to believe that the offense is on the rise. Last year was a year of big changes in Arizona with a monumental shift from KenWhisenhunt's regime to Bruce Arians and his wide open passing game. And change was slow. Palmer did not exactly light it up over the first half of the season. In the first eight games, the team went 4-4, with Palmer surpassing 300 yards passing only once, in a road loss to St. Louis. And he managed just 10 TDs to 14 INTs, with 23 of the brutal 41 sacks he took last year. Yikes.
But things turned around after the team's Week 9 bye. The Cardinals went 6-2 over that final stretch, and Palmer began to flourish in Arians's passing scheme, which has produced some big fantasy years with guys like Andrew Luck and Ben Roethlisberger. Palmer had 2,361 of his 4,274 passing yards in those last eight games, surpassing 300 yards four times and 400 yards twice. He added 14 TDs, and although he threw 8 picks, 4 of them were in the Cardinals' Week 16 win at Seattle, the toughest defense in the toughest stadium. That was also Palmer's only sub-200 yard game in the second half. On top of that, he saw a reduction in his sacks from a miserable 23 to a merely terrible 19.
So, he was substantially better in the second half. But that's not all. As the giant sack number suggests, the offensive line was terrible at protecting Palmer last year. It's been a weak spot for years, and the Cardinals took a punch to the gut when their 2013 first-round draft pick, guard Jonathan Cooper, who was to anchor the rebuilding of that line, broke his leg and was lost for all of last year. Things went south from there, and, well, Palmer spent a lot of time on his back.
This year, not only is the team hopeful that Cooper will be back to lock down the middle of that line (increasingly important as NFL pass rushes focus more on coming through the middle), but they made a huge score in free agency by bringing in left tackle Jared Veldheer from Oakland. Veldheer is a top tackle in his prime and, all of a sudden, for the first time in forever, the left side of Arizona's line is rock solid. On top of that, Arizona has added depth all across the line, bringing in veterans like Max Starks to provide security and push the young starters. The weakest part of Arizona's offense, and one critical to Palmer's success, is now vastly improved.
And although it's easy to forget given the lack of offense in Arizona prior to the arrival of Palmer and Arians (and over the first half of last year), this team is loaded at wide receiver. Larry Fitzgerald has battled minor injuries for the last couple of years, but he's only 30, and he should continue to progress in Arians's system along with Palmer. And in Michael Floyd, Fitzy now has the most worthy partner on the outside since Anquan Boldin left town. Floyd took a huge step forward in 2013, catching 65 balls for over 1,000 yards, doubling both his yardage and touchdown totals from his rookie year. He's a dangerous, physically gifted WR, and a perfect complement to Fitzgerald.
Along with the weapons on the outside, Palmer also has an underrated receiving threat out of the backfield in Andre Ellington. Although Ellington was only a part-timer in that backfield (yielding substantial time, for reasons that I cannot fathom, to the likes of Rashard Mendenhall and Stepfan Taylor, who each averaged 3.2 yards per carry to Ellington's 5.5), he still caught 39 balls on 57 targets for 371 yards. And even in limited attempts, Ellington proved that he's a constant threat to take one the distance. With more playing time this year, he should see more looks in the passing game and help improve Palmer's fantasy numbers.
So that's the case. Palmer's 2013 was better than you remember, particularly in the second half of the season in a new system; that system has a proven track record of producing big fantasy seasons for quarterbacks; the team greatly improved the weakest part of the offense, and one critical to the QB's success; and Palmer's surrounded by weapons. And, yes, let's not forget, everybody hates him, so he'll be cheap. He passes the sleeper test with flying colors. Go get him.