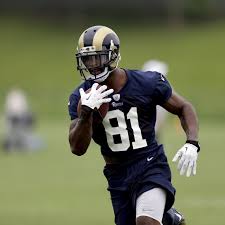 I'm going to tell you about a guy we haven't heard from in awhile. After a rookie year that showed a lot of promise, he averaged over 14 fantasy points per game in his second year, a pace that would have landed him 6th among all WRs had he not lost six games to injury. He started his third year even stronger: 271 yards and 3 TDs in his first two games. He was blowing up, the next great WR, despite less than greatness surrounding him on offense.
Then, it fell apart. More injuries, some trouble off the field, and his coach left town. He struggled to get on the field and, although he showed the occasional flash of his talent, he just never had enough reps to get it going. Everyone seemed to write him off, including the guys calling the plays.
Except now, for the second time in his career, everything has changed. Now he's back with his old coach, on a team that's not only loaded with young talent, but plays all its home games in a WR-friendly dome. His speed and hops are back, and he's just been named the starter on the opposite side from the first WR taken in last year's draft. It's all roses.
We're talking about Kenny Britt, of course. Britt has gone through enough trouble in Tennessee that people have forgotten what he did those first years in the league. Sure, some of it was his fault, and there are red flags to be aware of, but the bulk of his troubles were freak injuries, and the timing of Britt's problems suggest that Fisher departing Tennessee did not help things for him. So the fact that they're together again isn't trivial. And although St. Louis has not exactly been a WR haven, they have a solid core of young talent, including Tavon Austin and Brian Quick at receiver, Jared Cook at tight end, and a newly dangerous running game led by Zac Stacy. They are fast and play on a fast field, and, while Bradford might not be an elite QB, he has enough talent and arm to get the ball to his playmakers. Britt is going to get his chances.
And yet, fantasy players seem to have decided that he will not return to glory. It's fair, to a point. He had injuries and some trouble, so you can understand why most have decided that he's not worth the risk. Except for one thing: there's no risk! Britt is currently being drafted as about the 60th wide receiver on average. 60th! That's one-dollar range in your auction! He's a true sleeper, and despite his talent, and the fact that he was recently named the starter in St. Louis, he will cost you next to nothing. And on top of all that, although it seems like his arrival on the scene was forever ago, Kenny Britt is only twenty-five years old.
Britt is young, talented, and in the perfect situation for him. In short, he's a steal. Grab him and don't be afraid to start him on opening day.