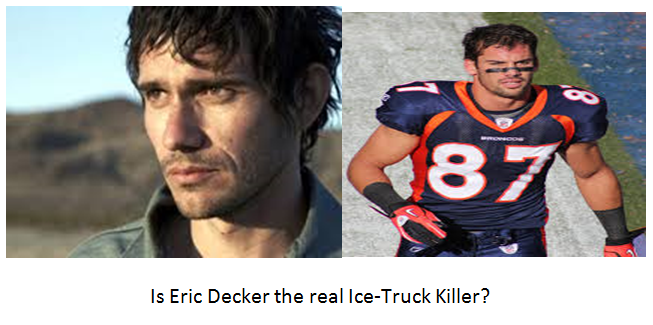 Is Eric Decker the real Ice Truck killer? If so, you might consider moving him up your board.
Five of the top 10 fantasy wide receivers last year were guys with "character" concerns. In case you weren't a math major in college, that's half.
With this in mind, maybe instead of downgrading receivers who've exhibited questionable judgment, maybe we should be moving them up our boards.
Think about it, if they have made it to the NFL despite doing everything wrong the whole way, don't you suppose that they must possess monster-sized, elite talent?
Below is the list of the top 10 receivers in overall fantasy points last year. We've scoured the internet to let you know which ones are the malcontents.
1. Josh Gordon
Gordon missed the first two games of 2013 for violating the league's substance abuse policy. He also failed three drug tests prior to entering the NFL.
2. Demaryius Thomas
Clean.
3. Calvin Johnson
He's squeaky clean as far as we know. But with what we know about talented WRs and considering how good he is, is there any doubt that he's hiding something huge?
4. A.J. Green
Clean.
5. Dez Bryant
Good ol' Dez. He even assaulted his own mother. Of course, his mom is only 14 years his senior, so they are basically the same age, and she's been arrested for selling crack cocaine twice, which is way more times than my mother. (Reader poll: Would you prefer your best player to be addicted to crack cocaine or regular cocaine and why?)
6. Brandon Marshall
BMarsh is also a pretty bad man with a long rap sheet filled with domestic violence. The bright side is that none of those charges involved the lady that gave birth to him. So there's that. He also has that fiasco with Josh McDaniels going for him.
7. Antonio Brown
Seems like a decent guy.
8. Eric Decker
I have a hunch that Eric was the real Ice Truck Killer, but for now we're saying he's clean.
9. Alshon Jeffery
First of all, his ancestors spelled the end of their last name "ery" instead of "rey." He also slipped in the draft despite enormous talent because he was overweight and suspected to be lazy. As far as being a bad dude goes, this isn't terrible, but if you can't stay in shape when millions of dollars are riding on it, you must be so used to getting by on sheer talent that you can't contemplate any other way.
10. DeSean Jackson
He's been reported to have gang affiliations and he's been flashing gang signs. I guess now we know why he had this breakout season.
And history seems to support the notion of the malcontent WR being an indicator of success. Remember Randy? T.O.? We thought Marvin was a steady-Eddie, but even he might have shot someone [Link to GQ article implicating Marvin.] Michael Irvin had that propensity for crack and hookers. And remember how Keyshawn got "Keyshawned"?
With all of this in mind, you might want to consider Justin Blackmon, Plax, Santonio Holmes, DeSean again, or even Aaron Hernandez. (Is anyone else rooting that he gets off on a technicality? No? I'm the only one besides the Pouncey twins. Me neither then.) [Link to Pouncey twins wearing 'Free Hernandez' hats.]