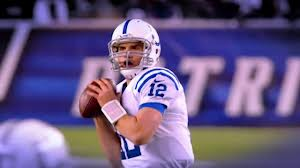 Photo By Marcus D. Green
1. Luck's 2012 season wasn't as good as you've been led to believe.
Luck's 54.1% completion percentage was abysmal, but the ugly secret no one (except us) is telling you: That completion percentage actually DROPPED after the first half of last season - from 56.5% in the first 8 games to 51.3% in the last 8 plus the playoffs. This is a gigantic red flag that you will ignore at your own peril.
*By contrast, Ryan Tannehill's completion percentage was 58.3% and dropped by less than 1% in the second half of the season.
2. A decline in Luck's rushing stats is probable.
New offensive coordinator Pep Hamilton has been preaching about two things: 1. Limiting the hits on his franchise QB and 2. Establishing a power running game. It's likely this new power run game will steal Luck's goal line carries and Hamilton will make sure his QB's overall rushing attempts also dissipate.
This is a big deal for Luck's fantasy stats. He had 5 rushing TDs last year to go along with the 5th most rushing attempts of all QBs.
We aren't saying Luck CAN'T run (he ran a 4.6 forty at the combine), we're only saying he WON'T run. (At least as much as last year.)
If you project Luck with half as many rushing stats as last year, it lowers his fantasy output by almost a point per game.
3. Strength of schedule.
Luck faced the sixth easiest schedule in the league last year. That is unlikely to be the case this year.
4. Defenses figured Luck out in the last half of last season.
Not only did Luck's completion percentage nosedive in the second half of last year, but his yards per attempt also plummeted (7.1 to 6.5). This is huge drop in a very important number.
In addition, Luck's fantasy points per game - adjusted for strength of schedule - dropped over 4.5 points per game! That's the equivalent of dropping from the 7th best QB in terms of fantasy football, all the way down to the 18th best.
The book is out on how to beat Andrew Luck. Maybe he'll adjust, but you're crazy if you don't allow for the possibility that he can't. Do you remember Sam Bradford?
5. Sam Bradford
Bradford was the last No. 1 overall pick to be anoited after winning the rookie of the year in 2010. For 2011, he was projected to be the 15th best quarterback (by Yahoo! experts). Instead, Bradford finished 31st. Luck isn't Bradford, but don't forget that a rookie's success doesn't necessarily pave the way to great things.
6. A decline in passing attempts is probable.
New offensive coordinator Pep Hamilton wants to run a more balanced attack. Luck threw the 5th most attempts in the NFL last year, but he is unlikely to approach that number with the new coordinator.
Obviously, less attempts generally leads to less fantasy points.
7. Luck was only the 3rd best ROOKIE QB last year.
For all the talk about how great Luck was, he was only the 3rd best rookie quarterback last year in both fantasy numbers and real stats (as compiled by www.footballoutsiders.com). Russell Wilson and RG3 were both better by almost any measure. With that in mind, why is Luck getting such a disproportionate amount of love?
Just a reminder: No fantasy points are awarded for what people did in college. Some so called "experts" don't seem to realize that.
8. Reggie Wayne is 34 years old.
That is not a good age for wide receivers and he's Luck's top target.
9. The goal in fantasy football is to "WIN THE GAME" and I can't find any REAL data anywhere that would lead any reasonable person to believe that Andrew Luck will help you do that.
I'm befuddled. Please email me and let me know: Why is everyone ignoring the glaring red flags attached to Andrew Luck? jjp@routetree.com or hit me on Twitter @routetree