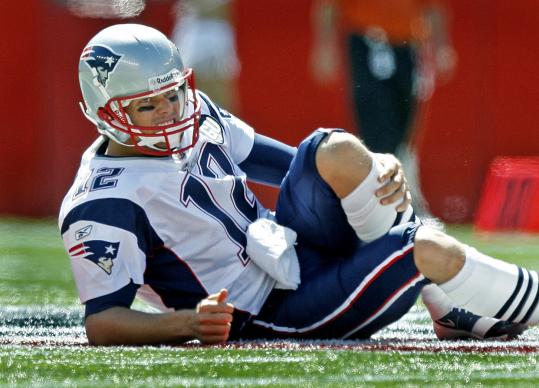 My Uncle likes to say, "I'll always remember where I was when John F. Kennedy was shot."
Me? I'll never forget the moment Tom Brady tore his ACL.
It was 2008. I was in a $100 salary cap league. I spent $43 on Tom Brady and $44 on LaDainian Tomlinson, leaving me with only $1 players to fill out the entire rest of my team. When Brady went down in the first quarter of the first game that season, I knew right away he was done for the year. A little piece of me died inside.
I remember how my eyes started to tingle and sting as I tried to hold back tears. I remember sitting alone, awkwardly trying to hold my own torso for comfort with one arm around my belly and the other draped atop the opposite shoulder.
As the tears outgrew the capacity of my eyelids, they started streaming down my cheeks, and something inside me snapped. I'm not ashamed to say that I wept with complete abandon.
I felt as if I was collapsing inward. It felt as if my life consisted of nothing except a void full of an empty chasm. My sorrow was deep.
Fantasy football means something to me. I care. Everyone I know claims I care too much, but we don't get to pick what we care about. We live in a world where we very rarely get to choose. We don't get to pick what we love. We don't get to pick if our taste buds prefer pizza over tacos, or liver and onions. We don't get to pick who we love or who loves us. We just do, or we don't.
I do love fantasy football. Maybe it's because, for once, I do get to pick.
If you've found this website, buried deep within the depths of the World Wide Web, it's likely you also like to pick. You also find the right to pick to be very precious. So precious, you have a burning desire to get that pick right. You've come to the right place.
This site isn't for the loosey-goosey fantasy guy (or gal). This site isn't for the fantasy football faint of heart. This is the deep end of the fantasy football shark-infested pool. This is for the players, fighting to win their deep leagues. It's my pledge, we'll do our damndest to help you do just that.
I'll do the math that you don't have time to do. I'll search out the historical patterns and how they apply to today. I'll do the in-depth research of the offensive lines. I'll give you the updates on which offensive coordinators are where and if/why it matters. I'll search out all the red flags and the green flags. When the popular media is full of "butter," I'll let you know. I'll put the info all together for you, so you can make more informed decisions.
So here we go, you and me, me and you, together. The collapsing-inward feeling? It ends here! The emptiness? It ceases now. The void filled only with a chasm? Right here we begin filling it with Fantasy Football Trophies, bragging rights, rings and bling. You and I. Me and you. I, you, me ... together we forge ahead as a "we!" We are The Revolution!
I began this story with a story of a Patriot, Tom Brady. There was another patriot, he changed the world by informing the world, "The British are coming!" That man's name was Paul Revere. My name's Jeffery Jon Pitts, the British don't even like fantasy football, but I am here to inform the world... I, you and me... Our route to domination starts here and it begins today.
Welcome home,
www.routetree.com
and
Jeffery Jon Pitts (The Most Dominant Force in Fantasy Football)