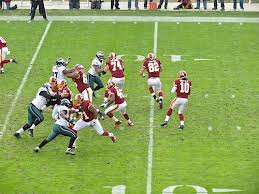 Photo by Matthew Straubmuller http://www.flickr.com/photos/imatty35
The Super Rookies!  RGIII!  Luck!  Wilson!  They were all so good last year, just wait until this year! They'll be so much better!
Right?
Well, maybe not.
The rookies really were incredible, and their production was the story of the fantasy football season. If Cam Newton made waves in 2011 with his unprecedented rookie season, then last year's rookies brought the flood, washing away the old narratives about what to expect from first-year QBs. Yet, based on pre-season analysis and chatter, it appears another old narrative is still in play: that rookie QBs make a "leap" between their first and second year. As good as the rookies were last year, the conventional wisdom says just wait until you see what they can do after a year of "digesting the system" and "getting a feel for the speed of the game."
But do the numbers support the existence of a leap? Are last year's Super Rookies poised for legendary seasons?
Not really. To begin, almost no first-year quarterback has ever had a fantasy season like the ones that RGIII, Luck, and Wilson had last year, so most comparisons are weighted with caveats. But, although the super rookies combined for three of the four best fantasy seasons ever had by a rookie QB, Newton's 2011 campaign bested them all. So let's start there:
Cam's 2011 was incredible: he topped 4,000 yards passing and 700 yards rushing, with 21 touchdowns through the air and another 14 on the ground. Despite seventeen interceptions, his completion percentage landed right on sixty, and he amassed 441.2 fantasy points, good for an excellent 27.6 points per game, fourth in the league.
How about 2012? For all the talk of what a disappointment he was (shadowed, no doubt, by the success of the Super Rookies and their teams, all of which made the playoffs, something that (1) Cam has yet to achieve; and (2) is totally meaningless from a fantasy perspective), he was quite good. His total fantasy points dropped a bit (391.6, or 24.5 per game), but he was still fourth in the league. He topped all three Super Rookies, though RGIII got within inches on a points per game basis (24.4 for Mr. Griffin). Newton's interceptions dropped significantly (12 to 2011's 17), and his rushing total actually increased by almost 40 yards, though without all those touchdowns.
All in all, Newton was good, and maybe even a better real-life quarterback than he was as a rookie. But was there a leap? No, certainly not. Despite a year of digesting systems and getting feels for speeds of games, his total points dropped, and, fair or not, he did not meet the frenzied expectations for his second year or his inflated auction prices.
Other successful first-year starters tell a similar story. In his 1998 rookie season, Peyton Manning produced 203 fantasy points on over 3700 yards passing and 26 touchdowns (with 28 interceptions). He was a substantially better quarterback in 1999, cutting his interceptions nearly in half and substantially raising his yards-per-completion average and completion percentage; but he only produced an additional 40 fantasy points (Manning's first monster year came in 2000, his third year in the league). It is worth noting too that Manning's game was far more reliant on traditional passing numbers than our Super Rookies, and thus he benefited more from real-world improvement than we can expect from them.
A more recent example of a successful rookie shows more of the same. Though it might be difficult to believe, Andy Dalton's 211-point rookie season in 2011 was one of the best fantasy football seasons ever for a rookie quarterback (5th or 6th best of all time, depending on your scoring system). Like Manning, he improved in his second year, but only slightly (he added just under 30 points in 2012). And like Manning, he is not nearly the comparable to the 2012 rookies that Cam Newton is, both in terms of total points amassed and the way in which he amassed them. In any event, neither Manning nor Dalton provides much reason to believe that the 2012 class will make the leap that Cam Newton could not.
Vince Young also had one of the best fantasy seasons ever for a rookie QB in 2006, when he gained nearly 220 fantasy points on 2,199 yards passing and 12 touchdowns (to 13 picks) in 15 games. But his points dropped in 2007; in 15 games that year, despite more attempts and a higher completion percentage, he managed only 183.5 fantasy points on over 2,500 yards passing but only 9 touchdowns (with 17 picks).
Does this mean the Super Rookies are doomed? Of course not. Manning and Dalton showed some improvement, and part of Cam's problem was that he started so high that he had almost nowhere to go. By contrast, although the rookies all had stellar years, they all finished between 8th and 11th among quarterbacks, and so they have some room for growth. But each also has some points of concern that might keep you from overspending on dreams of "upside."
For example, Luck threw 627 times last year, in part because the Colts D struggled. And even with all those attempts, he still only passed for 23 touchdowns (to 18 interceptions). Can we expect that many attempts again? If not, how low will his yardage and TD totals fall?
RGIII, like Newton, relied a lot on rushing yards: 833 with 7 touchdowns. Can he do it again? Maybe – as we saw earlier, Newton gained more yards his second year than his first. But unlike Newton, RGIII paid a huge price for those yards, tearing up his knee late in the year. All accounts suggest a speedy return for RGIII, but do you think the Shanahans are going to let him run loose like that again? Probably not. His carries will fall, and with them his fantasy points.
Wilson may actually hold the most promise of "upside" of the three. Unlike the other two, Wilson's offensive staff did not spend the entire offseason game-planning with Wilson in mind. Seattle's offensive changed substantially from the start of the season to the playoffs, and Wilson's numbers changed with it: he had 201 fantasy points in his final eight games of the regular season, compared to 131 in the first eight. On top of that, Seattle brought in Percy Harvin as a new weapon for the young QB.
But as great of a surprise as Wilson was for Seattle last year, those surprises can work both ways. Seattle may not have been prepared for how good Wilson was, but neither were opposing defenses. They will not be so surprised by him, or the offense that coordinator Darrell Bevell built around him, this year.
And maybe this is the answer to why a truly elite rookie quarterback like Cam Newton did not show fantasy improvement in his second year. Maybe the second time around, they were just ready for him. Is there any reason to think things will be different for RGIII, Luck, or Wilson?
Once the hype machine shines its light on a player, the auction price rises. Good as these guys are, I'll save my money for someone who does not have to match the hype to meet his dollar value.
Check out our in-depth analysis on all fantasy quarterbacks here.